Whether you're flying solo or growing your startup, there's a community of changemakers eager to connect and support you along your journey. Join us at these events — many virtual so you can attend from anywhere in the world — and start engaging with our global impact + innovation ecosystem!
IMPACT HUB NETWORK EVENTS
Democratizing Climate Policy In Houston
September 16, 2020 @ 17:00

-

18:30

CDT
Democratizing Climate Policy in Houston /Democratizar la política climática en Houston
When: September 16, 2020
6-7:30 PM EST/5-6:30 PM CT
Mi Familia Vota, MOVE Texas, and GreenLatinos invite you to join us for a discussion on democratizing climate policy in Houston. Houston just unveiled their first Climate Action Plan. Meanwhile, federal legislation such as the Green New Deal and the 100% Clean Economy Act have been proposed, and the House Select Committee on the Climate Crisis just released a detailed plan with recommendations to congress for addressing the climate crisis. Black and Latinx communities in Houston experience disproportionate impacts from air pollution and climate change. These federal and local proposals offer an opportunity to correct current and historic environmental injustices in Houston so that we can build a more vibrant future for everyone. Community members must drive the content of these plans and how they are implemented.
Mi Familia Vota, MOVE Texas, y GreenLatinos te invita a un dialogo con sobre la democratización de las políticas climáticas en Houston. Houston acaba de dar a conocer su primer Plan de Acción Climática. Mientras tanto, se ha propuesto legislación federal como el Green New Deal y el Proyecto de Ley para Economía 100% Limpia y el Comité Selecto de la Cámara de Representantes sobre la Crisis Climática acaba de dar a conocer un plan detallado con recomendaciones para que el Congreso aborde la crisis climática. Las comunidades negras y latinas en Houston padecen de manera desproporcionada los impactos de la contaminación del aire y el cambio climático. Estas propuestas federales y locales brindan la oportunidad de corregir las injusticias ambientales actuales y las del pasado en Houston para que podamos construir un futuro más vigoroso para todos. Los miembros de las comunidades son quienes deben decidir el contenido de estos planes y cómo se implementan.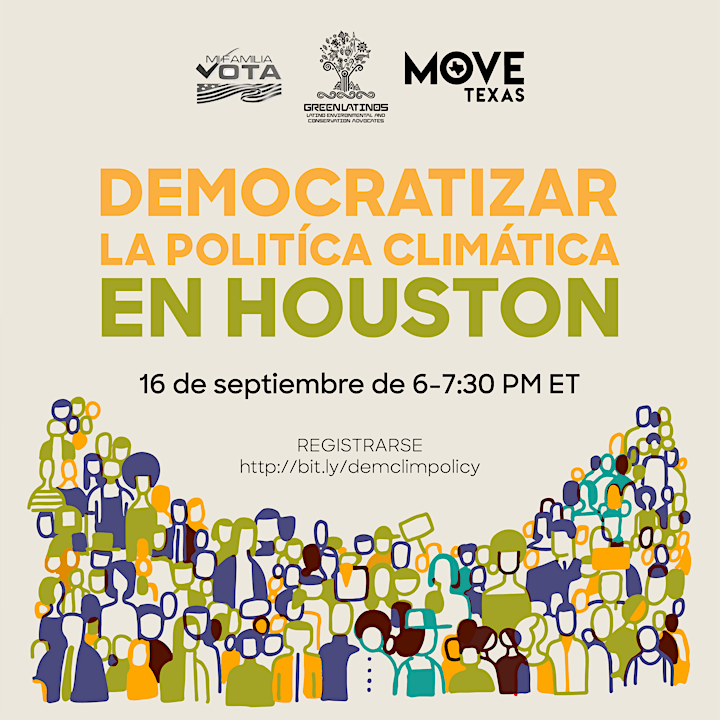 Related Events