Whether you're flying solo, a tiny team, or a growing startup, you don't have to take on the world alone. Join us at any of the following events and meet an inspired community of people who are passionate about working together to build a better Houston for all!
UPCOMING IMPACT HUB NETWORK EVENTS
Juneteenth: State of Our Community
June 19 @ 08:00

-

10:00

CDT
State of Our Community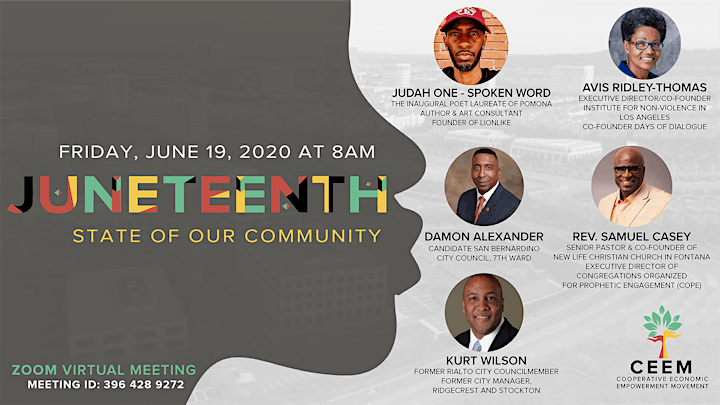 Join us for a conversation about the state of our community within public safety and policy. The discussion will focus on how we can bring solutions to the table.
Meeting Details
Join By Computer
https://us02web.zoom.us/j/3964289272
Meeting ID: 396 428 9272
Join By Phone
Dial In +13126266799 Meeting ID 3964289272#
Our Panelists Include:
Avis Ridley-Thomas
Executive Director/Co-Founder Institute for Nonviolence in Los Angeles
Co-Founder Days of Dialogue
Kurt Wilson
Former Rialto City Councilmember
Former City Manager, Ridgecrest and Stockton
Damon Alexander
San Bernardino City Council, 7TH WARD
Rev. Samuel Casey
Executive Director,
Congregations Organized for Prophetic Engagement (COPE)
Judah One – Spoken Word
The Inaugural Poet Laureate of Pomona
Author & Art Consultant
Founder of LionLike