Whether you're flying solo or growing your startup, there's a community of changemakers eager to connect and support you along your journey. Join us at these events — many virtual so you can attend from anywhere in the world — and start engaging with our global impact + innovation ecosystem!
IMPACT HUB NETWORK EVENTS
Open Project Night: Gearing up for the 2022 Houston Hackathon, PT. 2
August 17 @ 17:30

-

19:00

CDT
This is your opportunity to put your skills to work for a good cause! Join #C4H to help us begin planning the Houston Hackathon!
It takes a village… that's why we need your skills and experience!
Impact Hub Houston invites YOU to join this special Open Project Night focused on gearing up for the 2022 Houston Hackathon. This will be a hybrid session!
Our goal for this session is to plug you into an area of support that you'd like to work on and then, break out into working groups for what is needed to make the 2022 Houston Hackathon a reality.
Please bring:
Your laptop or something to write on
A positive problem-solving attitude
A willingness to support where you can
Your aspirations for what you'd like Houston Hackathon to look like this year!
Schedule // 5:30 PM-7:00 PM CST (if you are planning to attend in person, please aim to arrive by 5:15 PM)
5:30pm Welcome & Group Introductions
5:45pm Overview of the Areas of Support for Houston Hackathon 2022
6:00pm Break out Sessions & Working Groups
6:50pm Closing and Next Steps
Virtual Participation: Zoom link will be provided after registration. Must register a Virtual Guest to receive the link and reminders on the day of the meeting.
In-Person Attendance: We will be meeting at Impact Hub Houston's office. RSVP is required so we can pass your name to our building security. Garage & Street Parking is available.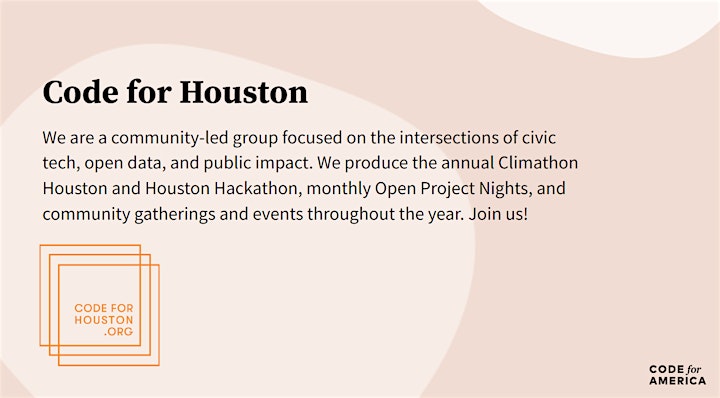 Principles of Democratic Structuring:
Delegation of specific authority to specific individuals for specific tasks by democratic procedures
Requiring all those to whom authority has been delegated to be responsible to all those who selected them
Distribution of authority among as many people as is reasonably possible
Rotation of tasks among individuals
Allocation of tasks along rational criteria
Diffusion of information to everyone as frequently as possible
Equal access to resources needed by the group
What can we do to protect the collective interest?
Have clear info about, goals, practices, principles, decision making processes; It must be easy to know where to find them.
Have *outside* sources of support for the collective as a whole.
Collective responsibility to name domineering behavior. Bullies emerge where there are polite people and ambiguous processes.
Being compassionate, kind, respectful, evenhanded > Being nice
No heroes, no pariahs

Respect differences & dissent

Power is complicated and that's ok. Systemic social power doesn't automatically = power in the group.
Share skills and don't be afraid to learn how to do something new.
Respect humanity & dignity. Everyone deserves emotional/material security, and to be heard.
Due process: be better than the state.