Have something you're struggling with? Register to meet with The Cannon's network of subject matter experts for a 30 minute session.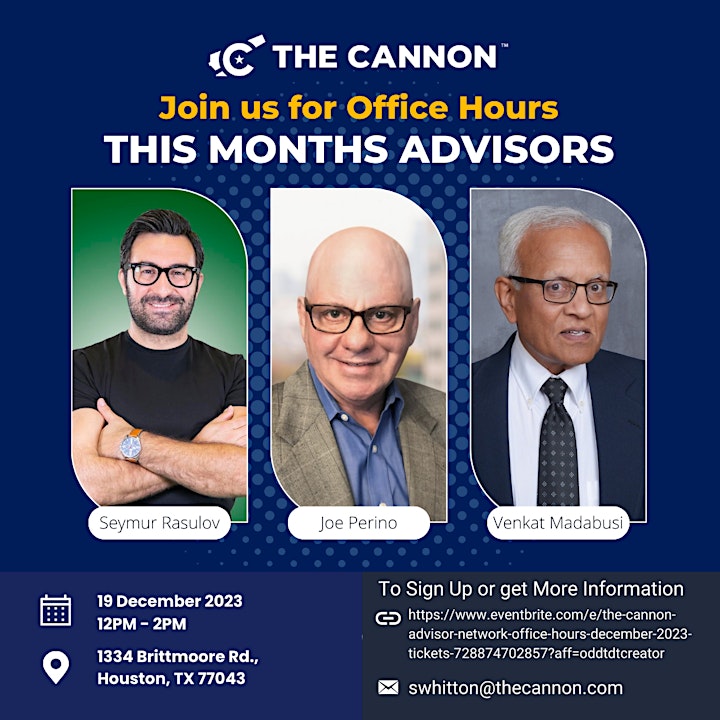 The Cannon Advisor Network Office Hours – December 2023
Q: What is The Cannon Advisor Network Office Hours?
A: A one-on-one 30 minute session with a verified mentor from The Cannon's Advisor Network.
Join us for an exciting in-person event at The Cannon West Houston – Flexible Workspace & Entrepreneur Network Solutions. The Cannon hosts Office Hours once a month. Our partnered Advisors are subject matter experts that volunteer to meet with you and go over a wide range of business advice: anything from a business idea to help finding resources for funding to how to scale your established business and much much more!
Our advisors share our vision and drive, which we believe is critical to be able to create value for our members, and we take the alignment of goals very seriously.
Register to meet with this month's advisors:
Seymur Rasulov: Seymur is a serial entrepreneur with passion for SaaS and fintech products. As a graduate of Techstars and 500 Startups Accelerator Programs, he has raised $1M in VC funding to help SMEs automate customer service and support using large language models. He is passionate about working with startups to help them find the products market fit. And has developed his program for startups called 3P: Problem to Product to Profit. Connect with Seymur before the event.
Joe Perino: Joe is an independent analyst, consultant and advisor focused on industrial transformation and operational excellence for the energy, process, and manufacturing industries. Perino founded PERTEX in 2015 to help industrial organizations drive business results. He focuses on the Industrial Internet of Things (IIoT), DataOps, advanced analytics (AI/ML), Cloud and Edge computing, Digital Twins, robotic process automation, and blockchain. He also specializes in helping startups, and their associated VCs, with strategy, market development, and M&A. Connect with Joe before the event.
Venkat Madabusi: Venkat is a high-energy goal-oriented senior director with an excellent track record in both operation and project management for Fortune 500 company. He enjoys identifying new markets for existing products.
He has broad experience both in the process technology and business development. His skill sets include Product Development, Process Optimization, New Business Development, Market Scouting, Open Innovation, and more! Connect with Venkat before the event.