Business 'unusual' – unlock competitive advantage through sustainability
Develop your sustainability strategy and unlock competitive advantage
The future is here, are you ready to transform your business for good?
This 3-hour workshop is designed for small and medium size businesses to start on their sustainability journey and integrate the Sustainable Development Goals (SDG's) into their strategy. You are going to learn applying the 4D Sustainability Canvas as an efficient tool to map out the negative and positive impacts generated by your business, and learn how to navigate through the actions and set your sustainability priorities. All that will happen in collaboration with other participants and your co-workers (we encourage you to join with 2 more people from your company!).
During the interactive workshop you will learn about:
Best practices on how you can link SDG's to you organization
The components and advantages of a sustainable business
How to conduct a 360 impact mapping across the 4 dimensions of Community, Employees, Governance and Planet with the 4D Sustainability Canvas
The next steps you should take for a sustainable transition
We will work in teams and you can choose to participate in two forms:
1
You can bring your own business as a live use case, which will enable you to leave the session with a clear sustainability action plan (up to 3 co-workers can register with special discounts) and get eligible for a one free 1to1 follow-up session with us. Available for SME's, Startups, Social Enterprises and NGO's.*
2
Join as participant helping the team of other businesses and learn how to apply the framework later at your own organization. Ideal for entrepreneurs, freelancers and consultants.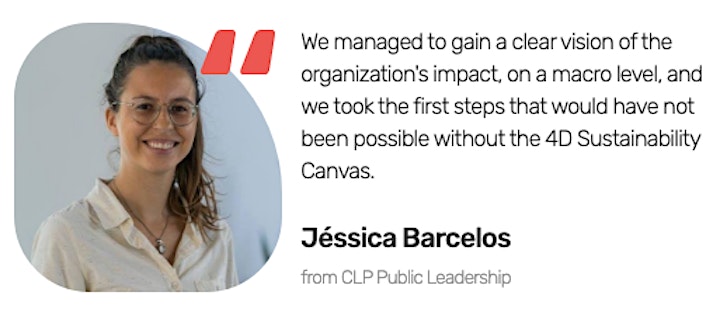 The workshop is built on the successful implementation of the 4D Sustainability Canvas at NGO's, SME's and start-ups.
You may learn about our methodology on www.sustainability-canvas.com and read testimonials from companies that have taken the first step of sustainability journey with us.