CLIMATE CHANGE: What does the future hold for Houston?
Dr. Katharine Hayhoe presents her findings from the Houston Climate Impact Assessment as part of Houston Climate Week.
Dr. Katharine Hayhoe will discuss Houston's future climate patterns and findings from her Houston Climate Impact Assessment. Houston's climate is already changing and many of the observed changes are projected to continue and even accelerate over the rest of this century. This report summarizes observed and projected changes in temperature and precipitation for 11 weather stations across the greater Houston area from 1950 through 2100. Projections are shown for a lower and higher future scenario that encompass the range of likely futures as a result of human choices and greenhouse gas emissions.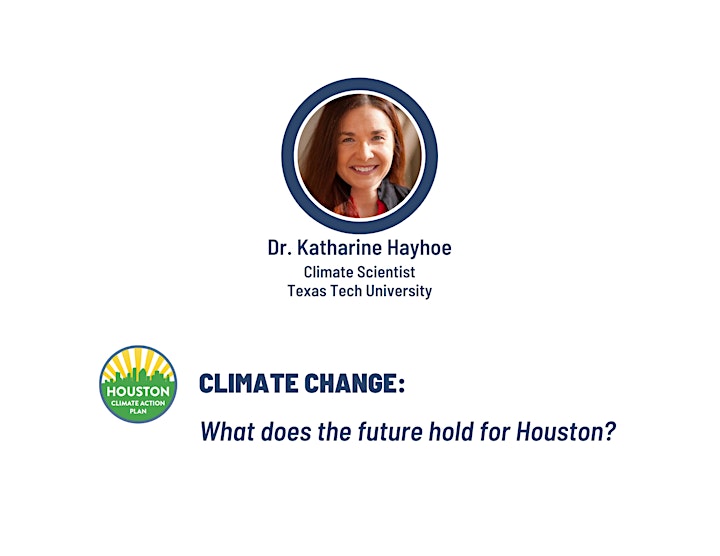 Houston's Climate Impact Assessment was a collaboration between the City's Chief Resilience Officer and Chief Sustainability Officer and was made possible through generous funding from C40 Cities, a network of the world's megacities committed to addressing climate change. The Climate Impact Assessment was identified in 2019 by both teams as a critical component to creating a safer, more resilient and sustainable Houston. This Assessment further links the City's first resilience strategy, Resilient Houston, released in February 2020 and the City's first climate action plan, Houston Climate Action Plan, released on the 50th Earth Day in April 2020. The climate science and data within will help inform, guide, and prioritize the implementation of both plans and is another opportunity to engage Houstonians in climate mitigation and adaptation education and action.
Register for other sessions at: http://houstonclimateweek.eventbrite.com/