Create a Standout Virtual Fundraising Campaign
Learn to plan the best quality and revenue-generating virtual campaigns.
Virtual event fundraising isn't new. It's a powerful strategy nonprofits can tap into to dissolve the geographic constraints of in-person fundraising, maximizing reach, attendee participation, and revenue.
Having the flexibility to activate virtual participants, especially when in-person events aren't feasible, ensures your nonprofit doesn't miss a beat. So, how do you maximize the impact of your virtual fundraising campaign?
Join us on October 13 at 1:00 P.M. ET for a live webinar with Classy, Create a Standout Virtual Fundraising Campaign, where you'll learn how to launch a virtual event campaign that reaches more donors, activates attendee participation, and raises more money.
Build skills in:
Campaign strategy
Donor strategy
Campaign planning
Virtual event fundraising
Online fundraising
This webinar is for you if you:
Heavily rely on in-person events to fuel your fundraising revenue
Want actionable strategies to make your virtual event feel like an in-person event
Are ready to take the leap and build a sustainable online fundraising strategy
Are seeking to grow your revenue sources as year-end giving approaches
Eager to provide the best fundraising experiences for your beneficiaries, donors, and future supporters
*Be Social Change Members access all our events for free! Become a member for $5 / month or $49 / year.
Instructor: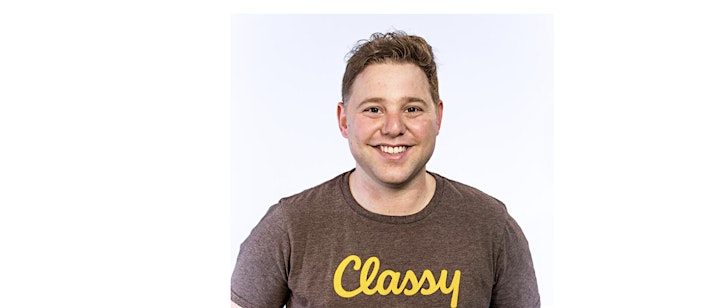 Brad Chrisakis, Director of Training and Development, Classy
Brad Chrisakis has been a Classy team member since 2009, working in a handful of roles including customer success, sales, management, solutions engineering, and training/development.
During his decade-long career, he's been able to work with thousands of nonprofit organizations helping them modernize their giving strategy in an effort to have the greatest impact on their programs and mission.

Classy is a social enterprise that creates world-class online fundraising software for nonprofits, modernizing the giving experience to accelerate social impact around the world. Since 2011, they've enabled millions of donations from over 190 countries. Based in San Diego, CA, Classy is trusted by more than 4,000 organizations of all sizes and causes, from major events like disease outbreaks, disasters, mass shootings, and social movements, to mainstay world challenges like environmental issues, child trafficking, human rights, and animal rights.
Webinar Schedule:
12:55 PM – Sign on to the webinar and introduce yourself in the chat
1:00 PM – Virtual Fundraising presentation led by expert Brad Chrisakis
2:00 PM – Q & A