Our Makers Festival '23 is all set to be a remarkable event that aligns perfectly with Impact Hub's core strategies.
Makers Festival 2023
November 7, 8 and 9!
Welcome to the Makers Festival 2023! Once a year, the Impact Hub Network gathers to share best practices in hosting collaborative spaces and global networks for impact. This year, hosted online, we look forward to exploring the practice of inclusion, environmental action, HR, Theory of Change, Tools and much more.
This year, our festival agenda is full of insightful sessions based on the four pillars of our Roadmap: Improve, Influence, Increase, and Income. These sessions are designed to provide value and empower you as a Maker.
🎉 Connecting Through Creativity and Impact
Our Makers Festival '23 is all set to be a remarkable event that aligns perfectly with Impact Hub's core strategies. This year, our agenda will revolve around the four crucial pillars of Impact, Increase, Influence, and Income. It's a fantastic opportunity to educate, exchange knowledge, and empower our Makers to advance our global strategy.
🌍 A World of Opportunity for Every Maker and Community Partner
The Makers Festival isn't just an event—it's an opportunity. A 3-day online festival that brings together Makers and Community Partners from across the globe. It's a moment to connect with peers from different cities, experience the strength of our global Network, and exchange learnings and best practices. It's a celebration of the incredible work within our Network.
🌈 Opening Sessions for You to Share with Your Members
This year, we're excited to announce that we're designing specific sessions that will be valuable for anyone joining. It's a fantastic chance for Impact Hubs to invite your members to participate in these open sessions, sharing this enriching experience and fostering collaboration.
🗓️ Mark Your Calendars and Plan Ahead
We encourage all Impact Hubs to plan team's schedule around the Makers Festival 2023. This is an opportunity to bring some of the Network's energy into your spaces. Coordinate with your team to decide who will participate in each session, as each one offers unique topics and outcomes.
🎫 About Tickets: To ensure that each and every Maker from all Impact Hubs can join in, we're tailoring tickets per Impact Hub rather than per Maker.
We have used the information Impact Hubs has shared on its report to tailor the tickets according to the revenue of each IH in Euros.
IMPORTANT: To get your ticket, the person responsible for your Impact Hub should buy the ticket that corresponds to your Revenue according to what was reported in 2022. The ticket is valid for the whole team.
Purchasing the IH Tickets guarantees:
1. Everyone from your Impact Hub can participate during the whole Makers Festival ;
2. We will share the recording and materials after the sessions with you;
3. You will be able to invite members to participate in specific sessions;
4. Possibility to apply for the Innovation Awards in Space; Partnerships and Fundraising.
Makers Festival 2023 is our chance to unite, learn from one another, and celebrate our collective achievements. Stay tuned for more updates, and together, let's make this festival a one-of-a-kind experience, deeply impactful and profoundly empowering!
🟡 This year, we will test live translation during some of the sessions to see how we can expand our reach to our makers, so it is important that every maker from your team who is going to participate in the Makers Festival is listed when you purchase your IH ticket <
– Important –
Once your Impact Hub has guaranteed your spot in the Makers Festival '23 with its ticket, we will send a follow-up email to everyone from your team listed in the purchase with additional information on the sessions.
So Step 1 is buying the ticket for your team and provide us the list of makers you expect to participate in the Festival;
Step 2: we will share further information and a forms with every maker to gather information about the participants and which sessions they are planning on participating
Step 3: we will share with everyone who completed the forms the invite for the sessions of the Makers Festival.
When is the Makers Festival Taking Place?
On November 7, 8 and 9, 2023!
Who is the Makers Festival For?
The Makers Festival is for makers of all levels and from every Impact Hub. This is also an event we count on with our Community Partners. And this year, we would like to open some sessions to our Impact Hub members to participate as a way of bringing value to the Impact Hubs and their relation with their members, so check the agenda and plan on inviting your members to participate in these specific sessions.
Where is the Makers Festival Taking Place?
All sessions will be conducted ONLINE. The necessary links will be shared shortly before the Festival kicks off.
For questions, please write us at [email protected]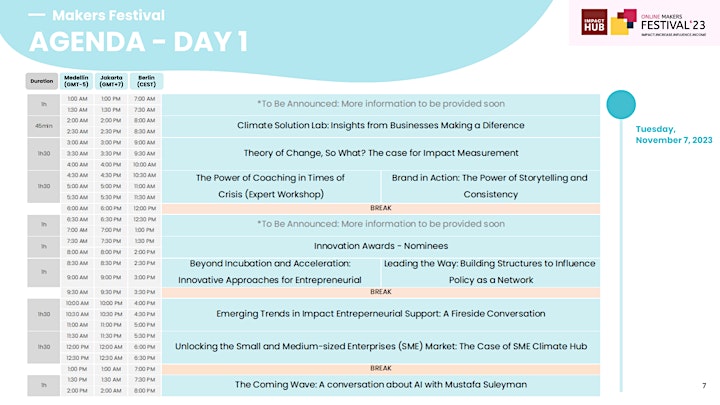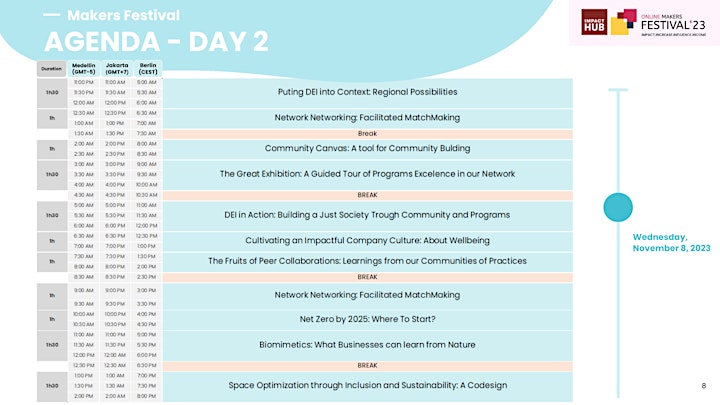 As we approach the event, we will be adding more information about our speakers and other highlights to the Agenda Deck. Please make sure to bookmark this deck and consider sharing it with your team to stay updated.