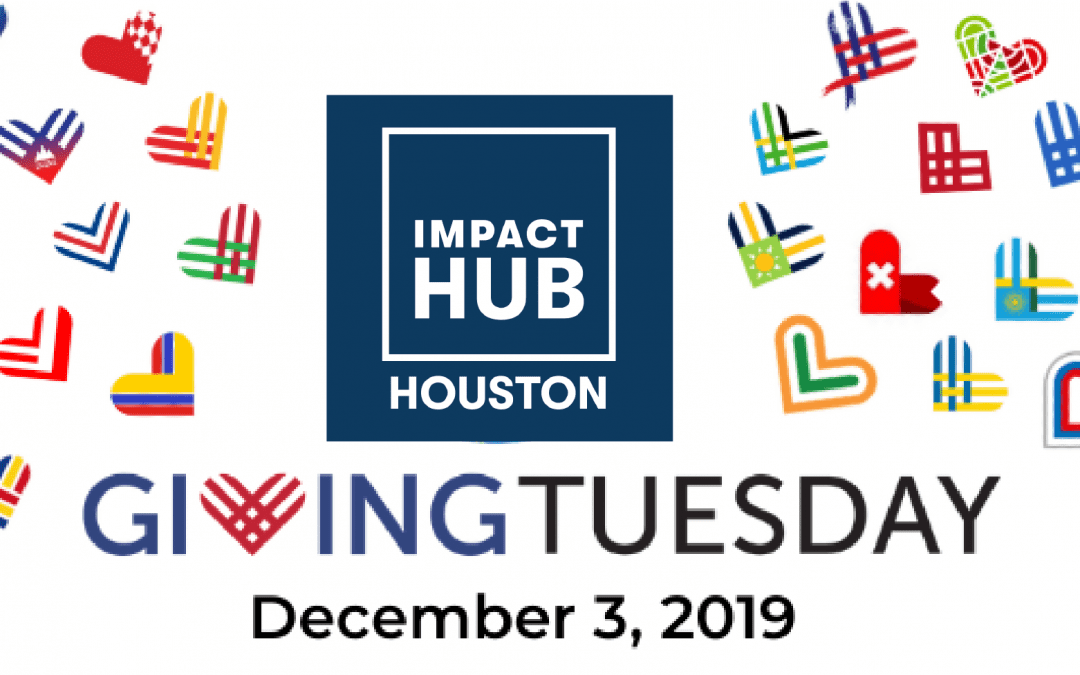 Houston, TX – Impact Hub Houston, a locally rooted, globally connected 501c3 nonprofit organization dedicated to empowering diverse changemakers and social entrepreneurs, has joined #GivingTuesday, a global day of giving that harnesses the collective power of individuals, communities and organizations, to encourage giving and to celebrate generosity worldwide. Every year, on #GivingTuesday, millions of people across the globe mobilize to show up, give back, and change their communities. The goal is to create a massive wave of generosity that lasts beyond that day, and touches every person around the world.
Impact Hub Houston is building an innovation ecosystem that inspires, connects, and empowers all people working on solutions towards any of the 17 United Nations Sustainable Development Goals (SDGs). To date, the social enterprise has collaborated with over 40 organizations, grown to nearly 50 members, and reached 358,000 people.
Impact Hub Houston invites Houstonians to #GiveBack by taking time this week to volunteer for an organization that supports an SDG they are passionate about. Impact Hub also invites Houston's changemakers to join their community to connect with peers and mentors who can help them validate their ideas and build sustainable business models around their solutions so they can forge their own paths to economic resilience and wealth, create jobs and opportunities for others, and successfully participate in the innovation economy.
To help Impact Hub Houston help more diverse changemakers launch their solutions and grow their impact, please donate this #GivingTuesday at https://houston.impacthub.net/donate/!
About Impact Hub Houston (https://houston.impacthub.net)
Impact Hub Houston is a locally rooted, globally connected, nonprofit startup development organization that aims to make Houston a role model for how the world solves its most pressing issues. A member of the Impact Hub global network—the world's largest community recognized by the United Nations for accelerating entrepreneurial solutions towards measurable and scalable impact for the Sustainable Development Goals (SDGs)—Impact Hub Houston intentionally designs places, platforms and programs to build an inclusive innovation ecosystem and empower diverse changemakers, social entrepreneurs, and impact supporters to create the change they wish to see in the world.
About #GivingTuesday
GivingTuesday is a global giving movement that has been built by individuals, families, organizations, businesses and communities in all 50 states and in countries around the world. GivingTuesday harnesses the collective power of a unique blend of partners to transform how people think about, talk about, and participate in the giving season. It inspires people to take collective action to improve their communities, give back in better, smarter ways to the charities and causes they believe in, and help create a better world. GivingTuesday demonstrates how every act of generosity counts, and that they mean even more when we give together.