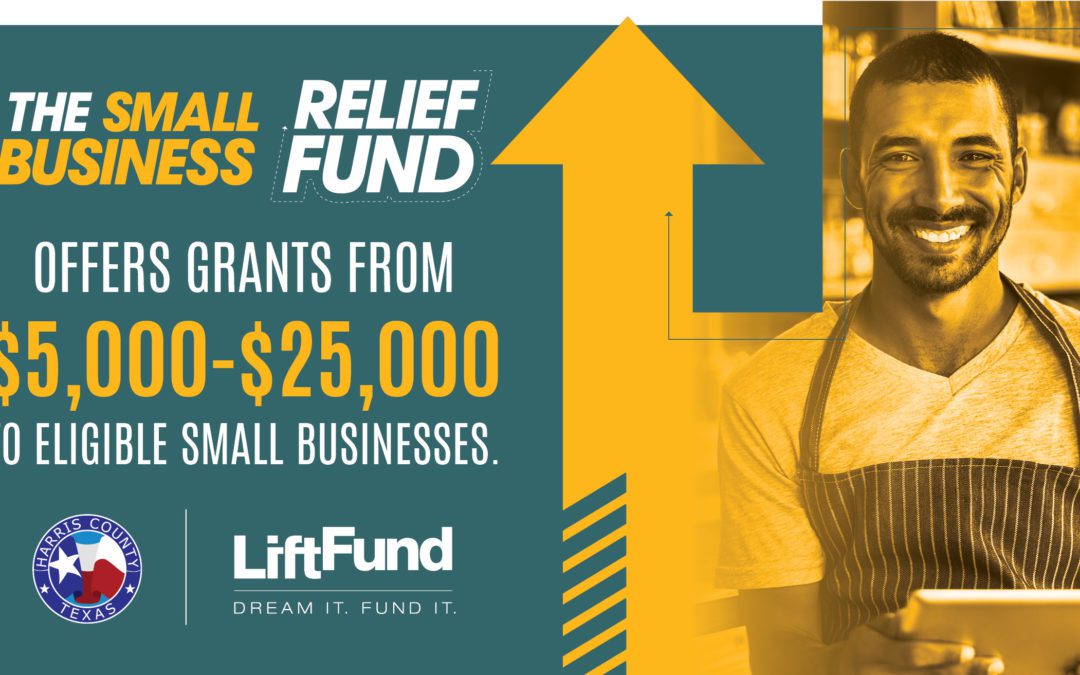 Harris County has created a new $30 Million Small Business Relief Fund to support micro and small businesses recovering from the economic effects of the COVID-19 pandemic. Created with funding from the American Rescue Plan Act (ARPA), the Small Business Relief Fund is being administered by LiftFund, a nonprofit community development financial institution (CDFI); and we are proud to announce that Impact Hub Houston is partnering with LiftFund to help more entrepreneurs, founders, and micro and small businesses learn about and get access to this critical funding so they can survive and thrive in these incredibly trying times.
Eligible small business owners may apply for financial support in the form of grants ranging from $5,000 to $25,000 to advance their recovery from the economic setbacks caused by the COVID-19 pandemic. The application window will open Monday, September 20 at 9:30AM and close Monday, October 4 at 5:30PM Central Standard Time. The application process is not first-come, first-served; all completed applications will be reviewed for eligibility and prioritized based on small business impact parameters. Below you will find more details about this program, including eligibility, funding methodology and timeframe.
To learn more, scroll down and/or attend one of LiftFund's upcoming Virtual Info Sessions:
Located within Harris County
Registered business operating in Harris County. Check this map see if your business address is located in the county
Must have 30 or fewer employees (including part time, contractors and full-time employees and owners)
In operation before April 2020
Experienced negative impact on operations due to the pandemic
Annual revenue of less than $500,000 dollars in 2019 and 2020
Be in good standing Texas Comptroller's office with no outstanding tax obligations or liabilities
Grant Awards & Limitations
The Harris County Small Business Relief Fund will provide grants ranging from $5,000 to $25,000 to eligible micro and small businesses. Funds must be used for business-related expenses, including payroll, working capital, business rent, inventory, supplies, equipment, and other operating costs.
Grant applicants are only eligible to receive one grant award
Only one grant may be awarded per business with more than one location
Limited to one grant per physical address within Harris County
The grant application will require verification of pertinent documentation.
Personal Identification

Driver's license or government-issued photo ID

Business Information

Proof of business registration with Harris County or TX Secretary of State
Q1 2021 941, payroll report or 1099 to verify number of employees
Business utility bill (water, gas, electric) Home based businesses may provide a home utility bill.
Business Financials: 2019 and 2020 business tax return (additional financial documents, such as bank statements or P&L may be requested if losses cannot be verified by the tax returns)

Other

DD 214 proof of military discharge (veterans only)
The Harris Small Business Relief Fund awards will not be made on a first-come, first-served basis.  Applications will be assessed and scored using the following methodology. Applications with the highest scores will be reviewed and approved first. Applications will have up to 150 points based on the following five elements, each with a maximum of 30 points.
Ownership

The program has a priority for woman, minority and veteran-owned businesses

Previous access to financial support

Receipt of previous federal COVID-19 funding through PPP loan, EIDL or Harris County grants

Social Vulnerability Index of business location
Employee count

The program has a priority for businesses with fewer than 10 employees

Industry
Timeline & Award Schedule
Applications will be accepted from Monday, September 20 at 9:30AM to Monday, October 4 at 5:30PM.
The application review period will start on October 5, 2021 and continue through January 9, 2022.
The grant funds will be awarded monthly beginning in November 2021 and through January 2022. Eligible applications with the highest scores will be reviewed and awarded first, followed by applications with lower scores.
All grants will be awarded by January 2022.
For more information, or to get information for the Harris County Business Relief program in Spanish or Vietnamese, please visit https://www.harriscountybusinessrelief.org/