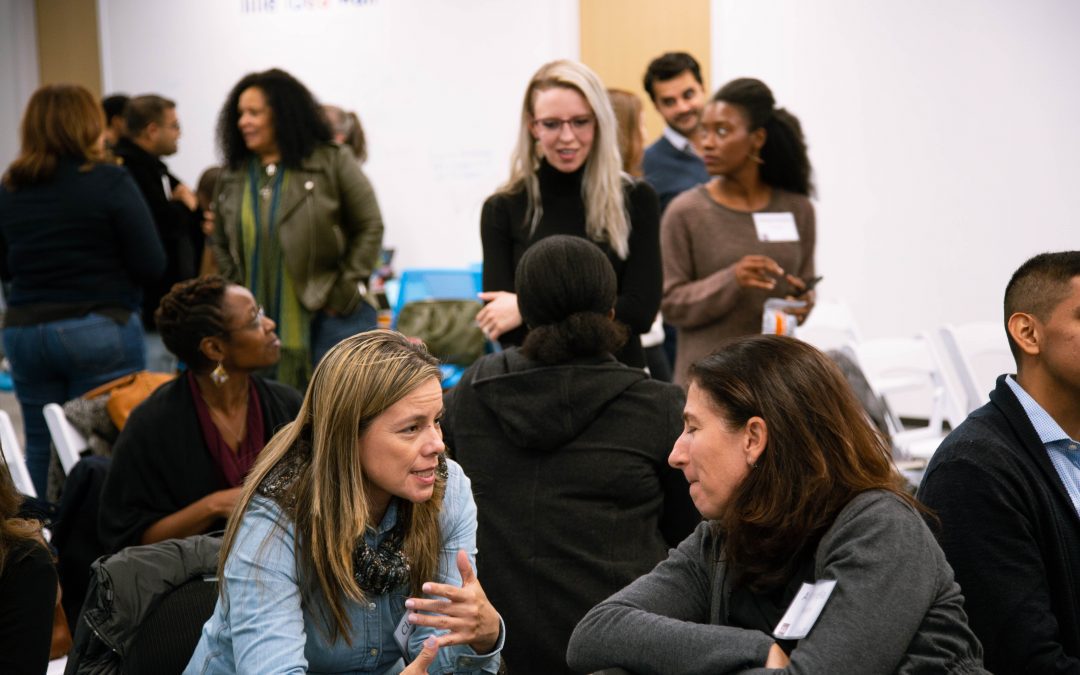 Workforce Solutions selects MassChallenge and Impact Hub Houston to operate a startup bootcamp designed for female founders. 
(Houston, TX) April 1, 2021 – MassChallenge, the global network for innovators, Workforce Solutions, the public workforce system for Houston and the surrounding 13 counties in Southeast Texas, and Impact Hub Houston, a locally rooted and globally connected impact innovation incubator, today announced a new partnership to launch a bootcamp to support female founders in the greater Houston region.
Together, Workforce Solutions, MassChallenge, and Impact Hub Houston will identify and support female founders looking to start a new high-growth or high-impact startup and support them through the earliest stages of building a business.
"There is unprecedented growth in startup creation as a result of the pandemic and founders from all corners of the world are connecting in this virtual environment to build and scale amazing ideas," said Jon Nordby, Managing Director of MassChallenge Texas. "With these new collaborations, we are also witnessing a massive gap in access to startup development resources. Our partnership with Workforce Solutions and Impact Hub Houston will help female founders build on their existing knowledge to become life-long innovators. MassChallenge is thrilled to partner with Workforce Solutions to equip bold entrepreneurs, disrupt the status quo, and create meaningful change."
Grace Rodriguez, CEO/Executive Director of Impact Hub Houston, adds: "As a female founder myself, I'm incredibly excited about this opportunity to support and uplift more women entrepreneurs and women-led businesses in our region. By now, it's no secret that women, and especially women of color, are under-invested in; and this is our chance to change that by helping more women strengthen their businesses and prepare to seek funding. It makes perfect sense that we're starting in Houston — one of the most diverse cities in the country and consistently ranked one of the Top Ten cities for women entrepreneurs — and that we're launching this with our partners at MassChallenge Texas and Workforce Solutions, both of whom have been strong allies in our collaborative mission to empower diverse entrepreneurs and talent."
"Workforce Solutions is excited to partner with MassChallenge and Impact Hub Houston to bring to life a new bootcamp designed for mission-driven women focused on creating, sustaining, or expanding a business," said Mike Temple, executive director of Workforce Solutions. "We recognize that small businesses and startups are vital to the continued growth of the local economy. Our goal is to drive a community that will support female leaders in support of entrepreneurial activities that create income and new job opportunities across the greater Houston area."
The female founder bootcamp leverages MassChallenge's proven acceleration model and Impact Hub Houston's inclusive incubation expertise to identify, accelerate, and connect female founders with the resources they need to launch and scale high-impact businesses. The bootcamp is industry agnostic and applications are open to all female founders in the Houston-Galveston region, offering them access to the global MassChallenge and Impact Hub curriculum, workshops, and networks of expert mentors and resources.
Applications to the bootcamp are live April 1 – April 7 and applicants will need to meet the Workforce Solutions eligibility criteria in order to participate.
Applicants can apply by: 
Submitting the pre-screening application by the deadline of 5PM CT on April 7 2021.
If a pre-screening application is approved, a Workforce Solutions staff person will reach out to the applicant to schedule a meeting; a response is needed within 2 business days.
At the conclusion of the assessment the applicant will be asked to complete the Workforce Solutions Financial Aid Application and upload supporting documents; this process must be completed by April 19, 2021.
Twenty-five applicants will be selected to participate in the Women's Entrepreneur Bootcamp on April 29th and 30th. Content will be available in both English and Spanish.
Questions? Email [email protected]
About Workforce Solutions 
Workforce Solutions is dedicated to keeping the Gulf Coast region a great place to do business, work, and live. Our employer-driven, people-focused approach elevates the economic and human potential of the region to attract and retain the best employers, afford everyone the dignity of a job, and remain indispensable to the global economy. As the public workforce system for Houston and the surrounding 13 counties in Southeast Texas, we work in tandem with the Texas Workforce Commission and the statewide Workforce Solutions network.
About MassChallenge 
MassChallenge is the global network for innovators. Headquartered in the United States with seven locations worldwide, MassChallenge equips bold entrepreneurs to disrupt the status quo and to create meaningful change. Since launching in 2009, more than 2,900 MassChallenge alumni have raised $8.6B in funding, generated $3.6B in revenue, and created more than 186,000 total jobs. Learn more about MassChallenge at masschallenge.org.
About Impact Hub Houston 
About Impact Hub Houston (houston.impacthub.net): Impact Hub Houston is a locally rooted, globally connected, 501c3 nonprofit impact innovation incubator that empowers diverse changemakers to solve some of society's most pressing issues. A member of the Impact Hub global network — the world's largest community recognized by the United Nations for accelerating entrepreneurial solutions towards measurable and scalable impact for the Sustainable Development Goals (SDGs) — Impact Hub Houston intentionally designs places, platforms, and programs to build an inclusive innovation ecosystem that looks like Houston and works for all.
About Impact Hub 
About Impact Hub (https://impacthub.net): Impact Hub is a global network focused on building entrepreneurial communities for impact at scale. With 100+ communities of 16,500 social entrepreneurs & innovators in more than 55 countries across five continents, Impact Hub is one of the world's largest communities and accelerators for positive change. It contributes to the development of social enterprise ecosystems to drive collaboration and innovation around the Sustainable Development Goals through locally rooted Impact Hubs, as well as with partners and allied networks.