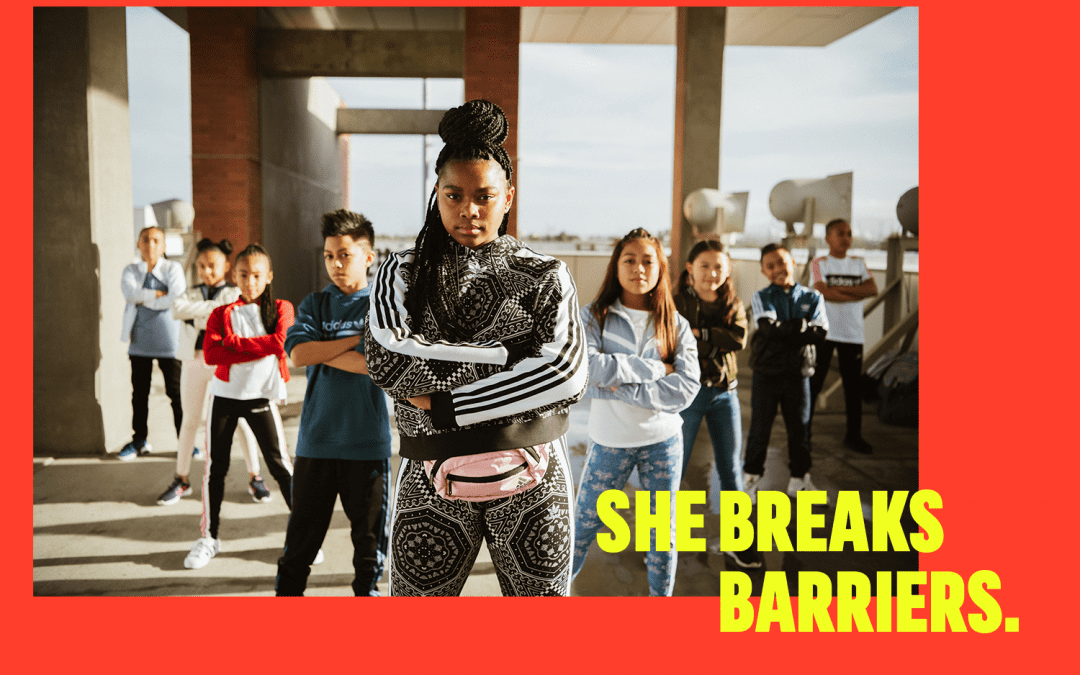 "She Breaks Barriers" program for ventures removing the barriers faced by girls and young women  in sport
Teams have the chance to co-create with adidas and win €15,000
Start-ups, non-profits and initiatives can apply until July 7
adidas and Impact Hub today opened applications for the "She Breaks Barriers" program, which will support changemakers that are removing the barriers that stand between girls and sport. Early-stage start-ups, non-profits and other initiatives that operate in Germany and address access, gender stereotype and visibility barriers faced by girls in sport have until July 7 to apply for the three-month program. It aims to inspire and enable girls and young women under the age of 25 — who at this age are at particularly high risk of being systematically shut out of sport.
She Breaks Barriers is a series of adidas initiatives to inspire and enable the next generation of female athletes, creators, and leaders. This program is run in partnership with the social entrepreneurship network Impact Hub — one of the world's largest communities for positive change — and draws on their expertise to find and boost ventures that remove barriers to sport for girls. We are looking for changemakers who address any relevant barriers, from safety concerns to a lack of opportunity and access to sport or limited visibility of female sports in the news and in the local sports club.
"At adidas, we believe that through sport, we have the power to change lives. 'She Breaks Barriers' is about inspiring and enabling the next generation of strong, confident leaders. It's about removing the barriers between women and sport, and providing them with the tools necessary to lift themselves and others up, on and off the pitch", Luc Van Hoeckel, adidas' Director of Social Impact.
The selected teams will have the chance to get mentoring and coaching from experienced adidas experts, attend three tailored business clinics, co-create with adidas  & access the global network of both adidas and Impact Hub, and win € 15,000.
"The program is not just about removing challenges that girls and young women encounter on the sports pitch but also about breaking the societal barriers that prevent them from participating in sport: The ventures we are looking for could be anything from initiatives that eliminate gender and sports stereotypes to mobile apps ensuring safe transport for girls to their training", Gabriela Gandel, Impact Hub's Global Executive Director.
Any early-stage start-ups, non-profit organizations and initiatives that operate in Germany can apply, as long as they have a unique, innovative and creative approach to removing barriers for girls in sport, a proof of concept, and a sustainable financial, funding or business model.
For more information and to apply, visit the She Breaks Barriers website.
About adidas:
adidas has its roots in Germany but it is a truly global company. Around the world, the company employs over 57,000 people. Employees from about 100 nations are working at the global HQ in Herzogenaurach, Germany – the 'World of Sports'. Every year, adidas produces over 900 million sports and sports lifestyle products with independent manufacturing partners worldwide.
About Impact Hub:
Impact Hub is a global network focused on building communities for impact at scale. With 100+ communities of 16,000+ change-driven entrepreneurs in more than 50 countries across five continents, Impact Hub is one of the world's largest communities and accelerators for positive change. We build ecosystems to drive collaboration and entrepreneurial innovation around the Global Sustainable Development Goals through locally rooted Impact Hubs, as well as with partners and allied networks.