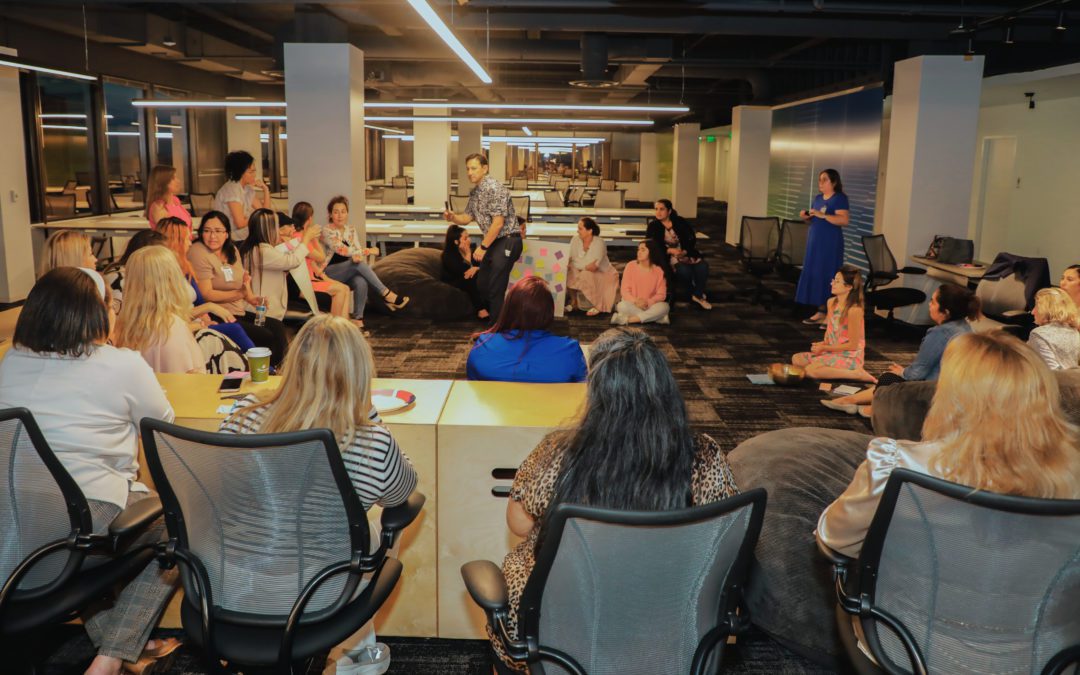 IMPACT HUB HOUSTON PROUDLY WELCOMES UNITED4CHANGE TO ITS COMMUNITY!
United4Change unlocks the potential of Spanish-speaking women entrepreneurs through its micro-entrepreneurship empowerment program
Houston, TX 05/16/2023: United4Change Center (U4C) is pleased to announce that the first 4-month Women Empowerment and Entrepreneurship Program in Houston: "Programa de Empoderamiento y Micro-Emprendimiento para Mujeres Emprendedoras de Houston", which has been sponsored by JPMorgan Chase & Co, has successfully started on Tuesday, May 16, 2023. The initial group of participants started their 4-month empowerment and entrepreneurship journey at Impact Hub Houston.
The U4C Program is delivered by professionals and experts with more than 30 years of experience combined in women empowerment, economic development, entrepreneurship, business and management. It is based on five fundamental pillars:
Micro-entrepreneurship education
Practical implementation
Creativity & innovation
Mentorship by experts
Network and support groups.
U4C has also partnered with UNIKEMIA, an educational institution created by academics with experience in world-class business schools, to provide Spanish-speaking women in Houston with high-quality hybrid business education.
"We believe everyone deserves the dignity of being able to provide economically for themselves and their families.  As an organization committed to the cause of social justice, we believe economic empowerment is among the most sustainable way to bring people too often left out of meaningful opportunity to the American Dream."

– Ximena Murillo, United4Change Founder/CEO

"We believe entrepreneurship is key to realizing social justice and U4C is committed to helping Houstonians in realizing the full potential this community offers.."

– Raul Vasquez, United4Change Board Director/Treasurer.
The U4C Program is based on a holistic approach and focused on women from underserved and at-risk communities (migrants/immigrants, refugees, low socioeconomic status and/or domestic violence survivors). Houston is one of the nation's most entrepreneurial, business-friendly, and diverse communities.
"When you speak to me in English, you speak to my brain, but when you speak to me in Spanish, you speak to my heart. – An adaptation from Nelson Mandela's famous quote which I heard a prominent Latino leader say during the 2022 Hispanic Leadership Summit. I saw this quote manifest in real life at the Mujeres Emprendedoras de Houston Kickoff event. We are extremely grateful to have United4Change Center as an Ecosystem Member of Impact Hub Houston. 35% of Harris County's population speaks Spanish as their first language. By bringing this in-language and culturally relevant program to life, U4C is meeting a crucial need for the Hispanic micro-business community in our city. The intentionality from their team is impeccable and we're honored to be hosting this impactful program and powerful group of female micro-entrepreneurs."

– Michelle Avalos, Impact Hub Houston Co-Founder/Deputy Director
About United4Change Center (U4C): U4C is a non-profit organization based in Houston that promotes social justice and peace globally through collaborative partnerships that empower marginalized groups, creating conditions for self-directed, dignified, and sustainable existence. In genuine partnership with community leaders and the beneficiaries of our initiatives, we seek to create conditions that build and strengthen the resilience of marginalized groups in fragile communities. U4C has designed and implemented several Social, Economic, and Humanitarian Impact Projects. U4C has been recognized in the United States and internationally for its work and dedication to promoting social justice and sustainable peace.
For more information about this exciting Program, please reach out to Ximena Murillo at [email protected].