Let's Make Houston the Energy *Transition* Capital of the World!
Join Climathon Houston to design and develop solutions for sustainable communities and a more resilient and equitable economy.
HOUSTON'S OPPORTUNITY TO INNOVATE SUSTAINABLE SOLUTIONS
The impacts of climate change are all around us, hitting our region more seriously and rapidly than models have predicted. We can no longer wait for others to solve this for us: We must lead the change we wish to see.
To remain the "Energy Capital of the World," Houston must lead in global Energy Transition. We have the unique opportunity to do so while creating massive impact in multiple Sustainable Development Goals (SDGs) related to climate action (SDG 13):
Communities around the world are working to rethink the cities we live in and the future we want, raise awareness for our challenges and ideas, engage our neighbors, and take collective action for a brighter future. In global partnership with EIT Climate-KIC and local collaboration with the Mayor's Office of Innovation, Impact Hub Houston catalyzes action for our region's Climate Action Plan by inviting you to join us for the biggest climate hackathon in the world: Climathon! This annual program provides a launchpad for real-world solutions, ESG (Environment, Social, and Governance) related start-ups, and meaningful relationships with key stakeholders and decision-makers.
AUGUST
Want to learn about this year's featured challenges and opportunities, listen to community pitches, or pitch your own idea? Attend the Climate Challenge Info Session!
SEPTEMBER
Need help deciding what to work on? Come to the Kick-Off with a problem, idea, or intention to find a friendly team and/or interesting project. Coaches and experts will be available to help you think through potential approaches and refine working ideas into promising solutions.
OCTOBER
Refine and finalize your ideas, solutions, and presentations for submission. Even if you weren't able to finish your prototype, don't worry: As long as you can execute a good presentation, your great idea can win, too!
NOVEMBER
Drum roll, please… Meet the Winners of Climathon Houston 2021! Join us to learn some of the most interesting ideas to emerge from this year's ideathon and which winning solutions will go on to the Climathon Global Awards!
CLIMATHON HOUSTON FEATURED CHALLENGES
We envision a more prosperous, equitable, climate-resilient economy, where finance flows to green projects and activities, and where motivated people are empowered with the skills and capacity they need to take action. You are invited to join us in this vision, and use your ingenuity and passion to move Houston another step closer to it. You also have the opportunity to shape our work and outcomes: As a Challenge Partner, you can sponsor solutions development around a specific theme or present your own challenge for participants to work on! 
CLIMATHON CHALLENGES
Partners and Participants are invited to design and develop solutions for any of the City of Houston's challenges (listed below) or for any of the Global Challenges:
Energy Transition
Materials Management
Building Optimization
Regional Resilience
Other: Work on a challenge that your community is facing!
ENERGY TRANSITION
Energy Transition includes developing innovative ways to …
Shift from extractive to regenerative energy production, capture and distribution technologies.
Restore, protect, and enhance Houston's natural ability to capture and store carbon.
MATERIALS MANAGEMENT
Materials Management includes developing innovative ways to …
Reduce waste production and/or Optimize waste operations.
Reuse or Upcycle materials into useful products, to lengthen their lifespan and keep materials out of streets and landfills.
Recycle materials into efficient energy or new raw materials for manufacturing and production.
BUILDING OPTIMIZATION
Building Optimization includes developing innovative ways to …
Reduce building energy use and maximize savings.
Increase the healthfulness and utility of existing buildings for sustainable community use.
REGIONAL RESILIENCE
Regional Resilience solutions include developing innovative ways to …
Address clean water, access, retention and flooding issues
Engage more people in building better habits that promote cleaner, greener communities
Accelerate clean urban mobility
Help Houston reach its Climate Goals
If there's one thing we learned from the pandemic, it's that technology can be a powerful way to connect communities across the Greater Houston area and overcome our (in)famous sprawl! To maintain this accessibility while providing in-person connection and collaboration, you can participate in Climathon Houston through a hybrid environment, with livestreams of key sessions, workshop webinars, and both in-person and Zoom coworking and expert coaching sessions.
Whether you're a concerned citizen, active advocate, designer, developer, engineer, energy professional, policy maker, student or startup, you can help innovative and local solutions for the global climate emergency. Bring an existing idea or get ready to meet and ideate with people like you who are ready to #TakeAction!
In 2019, Impact Hub Houston hosted the region's first Climathon — a global hackathon for climate-related solutions. Houstonians were invited to address challenges presented in the Mayor's Climate Action Plan and by Syzygy Plasmonics. Learn more about the Climathons since then: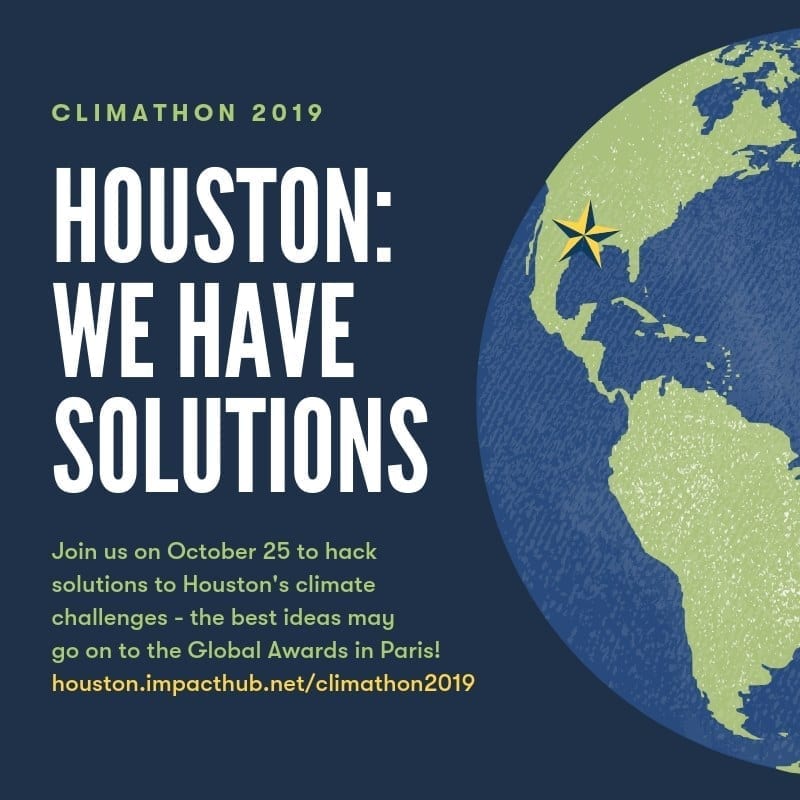 Highlights from Climathon 2019
To turn the tide on climate will require an unprecedented response at all levels of society, including courageous political leadership, transformative business vision, philanthropic audacity and wide-scale citizen engagement.
Chris Anderson, Head of TED
Turn the tide with us: Join Climathon Houston this year to connect with like-minded innovators, share ideas, spark new ones, form teams, and develop promising solutions…all with the opportunity to win a variety of awards! #DoGoodDoWell
HELP BUILD A BETTER HOUSTON :
BECOME A CLIMATHON PARTNER!
Houston — "The Energy Capital of the World" — has experienced three 500-year-flood in recent years. We've seen local changemakers and innovators rise to these challenges and want to give them a platform to take their solutions to the next level. In such a diverse region with tremendous talent and resources, it's only natural that Houston can be a leader in developing local solutions that can scale their impact around the world.
Be a Climathon Partner and leverage this opportunity to:
Engage Houston's public, private, entrepreneurial and advocacy communities to develop innovative solutions towards climate action
Build stronger relationships among impact-oriented organizations and communities
Connect thought leaders and subject matter experts with designers, developers, entrepreneurs, policymakers and activists for more creative, effective, and viable solutions
MANY THANKS TO OUR ANNUAL PARTNERS
Join us & participate in the biggest climate hackathon in the world. Contribute to finding innovative & local solutions for the global climate emergency. Apply with an existing idea, as a startup or a motivated individual, ready to #TakeAction for our community and planet.