THANK YOU for helping us make 2020 a success!
You can still "Be the Change for Climate Change": Join us in 2021 to ideate, design and develop solutions aligned with the city's Climate Action Plan…
Ductwalk: Flood Mitigation Surfaces Made from Waste Plastic
Diverting waste plastics from landfills and using it to 3d-print permeable pavers for sustainable flood mitigation
Houston: Setting the Standard for Energy Innovation
This solution combines established infrastructure and a GHG Scoreboard to support Houston's carbon neutrality aims and positioning it as the Leader in Energy Innovation.
*** People's Choice Winner! ***
HOUSTON'S OPPORTUNITY TO INNOVATE SUSTAINABLE SOLUTIONS
The impacts of climate change are all around us, hitting our region more seriously and rapidly than models have predicted. We can no longer wait for others to solve this for us: We must lead the change we wish to see. Climathon communities around the world are working over the next few months to rethink the cities we live in and the future we want, raise awareness for our challenges and ideas, engage our neighbors, and take collective action for a brighter future.
On Earth Day, the City of Houston published its first Climate Action Plan. Climathon Houston 2020 aims to catalyze action for the plan by inviting you, the people of Houston, to join us for the biggest climate hackathon in the world! Throughout November, enjoy a series of events led by experts in Transportation, Energy Innovation, Building Optimization, and Materials Management. Come connect, share ideas, spark new ones, form teams, and innovate solutions…all with the opportunity to win a variety of awards!
NOVEMBER 5
Need help selecting what to work on for Climathon 2020? The virtual Climate Challenge Info Session on November 5 presents experts from sustainable startups to help you learn about featured challenges that are in desperate need of solutions.
NOVEMBER 13
Help build a more sustainable future for Houston! Bring an existing idea to work on, or find your peeps and project at the Climathon Kick-Off. Coaches and experts will be available throughout the series to help you develop promising solutions to our climate challenges.
NOVEMBER 17
Refine and finalize your ideas, solutions, and presentations for submission. Even if you weren't able to finish your protoype, great ideas can win, too!
NOVEMBER 20
Drum roll, please… Meet the Winners of Climathon Houston 2020! Join us to learn some of the most interesting ideas to emerge from this year's ideathon and which winning solutions will go on to the Climathon Global Awards!
CLIMATHON HOUSTON FEATURED CHALLENGES
TRANSPORTATION
Shift regional consumer and commercial fleet to electric & low-emission vehicles
ENERGY TRANSITION
Make Houston the leader in carbon capture technology and energy innovation

Restore, protect, and enhance Houston's ability to capture and store carbon
BUILDING OPTIMIZATION
Reduce energy use and maximize savings

Expand investment in energy efficiency
MATERIALS MANAGEMENT
Reduce waste and transform the circular economy.

Optimize waste operations and create power from waste.
Help Houston reach its Climate Goals
The pandemic will not stop us from saving our people and planet! You will be able to experience Climathon globally and fully virtual this year, including live streams of all key sessions, workshop webinars, Zoom meetings with experts and coaches and more.
Whether you're a concerned citizen, active advocate, designer, developer, engineer, energy professional, policy maker, student or startup, you can help innovative and local solutions for the global climate emergency. Bring an existing idea or get ready to meet and ideate with people like you who are ready to #TakeAction for our climate!
In 2019, Impact Hub Houston hosted the region's first Climathon — a global hackathon for climate-related solutions. Houstonians were invited to address challenges presented in the Mayor's Climate Action Plan and by Syzygy Plasmonics.
Covered in Houston Matters by Houston Public Media:​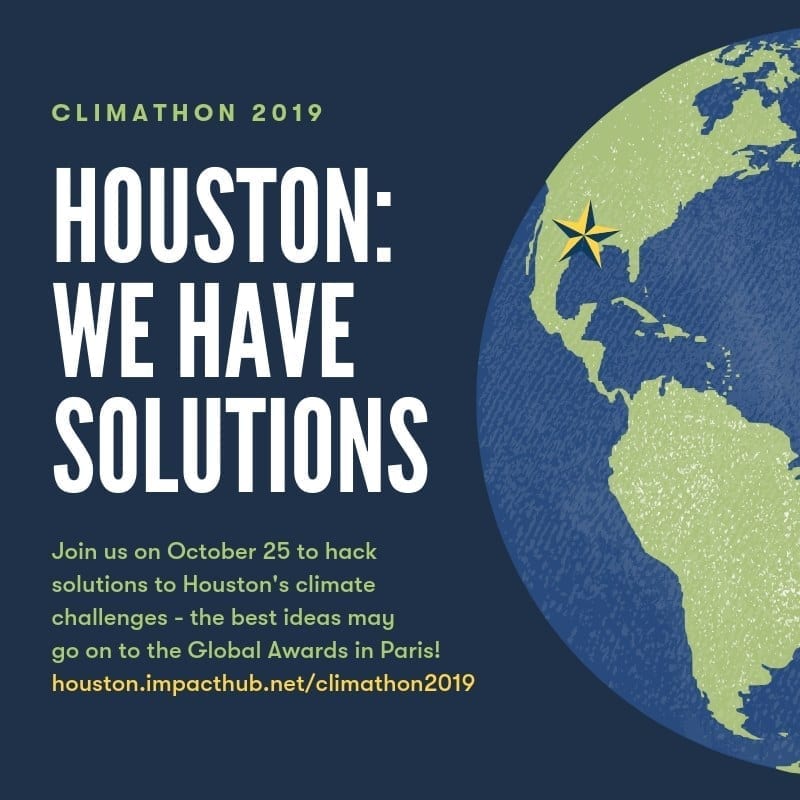 Highlights from Climathon 2019
To turn the tide on climate will require an unprecedented response at all levels of society, including courageous political leadership, transformative business vision, philanthropic audacity and wide-scale citizen engagement.
Chris Anderson, Head of TED
HELP BUILD A BETTER HOUSTON :
BECOME A CLIMATHON PARTNER!
Houston — "The Energy Capital of the World" — has experienced three 500-year-flood in recent years. We've seen local changemakers and innovators rise to these challenges and want to give them a platform to take their solutions to the next level. In such a diverse region with tremendous talent and resources, it's only natural that Houston can be a leader in developing local solutions that can scale their impact around the world.
Be a Climathon Partner and leverage this opportunity to:
Engage Houston's public, private, entrepreneurial and advocacy communities to develop innovative solutions towards climate action
Build stronger relationships among impact-oriented organizations and communities
Connect thought leaders and subject matter experts with designers, developers, entrepreneurs, policymakers and activists for more creative, effective, and viable solutions
MANY THANKS TO OUR PARTNERS


Join us & participate in the biggest climate hackathon in the world. Contribute to finding innovative & local solutions for the global climate emergency. Apply with an existing idea, as a startup or a motivated individual, ready to #TakeAction for our community and planet.