HOUSTON'S OPPORTUNITY TO DEVELOP REAL SOLUTIONS TO LOCAL CHALLENGES
As Houston's Code for America brigade, Code For Houston (#C4H) builds on the legacy of Sketch City: We work at the intersections of impact and innovation to advance technology, data and civic engagement for community-led solutions and evidence-based decision making. Our community of 3,000+ designers, developers, data scientists, policy experts, community organizers, scientists, journalists, activists, government representatives and more regularly put their talents to work on projects, public policy, and the City of Houston Hackathon every year.
We believe that Houstonians can lead the change we wish to see in our communities. Join us in building a better Houston for all!
Help Build a Better Houston
The pandemic will not stop us from helping Houston thrive! You will be able to experience the Houston Hackathon through a virtually interactive environment this year, including live streams of all key networking sessions, talks, and meetings with experts, coaches, and more.
Whether you're a concerned citizen, active advocate, designer, developer, engineer, energy professional, policy maker, student or startup, you can present and/or help develop a solution for any of our local challenges. Bring an existing idea, come and see others' ideas, and just get ready to meet and collaborate with people like you who are ready to Be the Change for Houston!
HOUSTON HACKATHON CHALLENGES
We envision a more equitable, inclusive, and sustainable economy, where people are empowered with the skills, capacity, and resources they need to take action. We invite you to be a part of this vision by participating in this annual opportunity to develop systemic and transformative solutions for Houston – solutions that are rooted in local communities so that they are as diverse as Houston, and work for ALL of Houston.
HOUSTON HACKATHON CHALLENGES
Hackathon partners and participants are invited to present and collaborate on solutions aligned with any of the Sustainable Development Goals below, or bring a specific challenge that you are directly experiencing in your community:
Good Health and Wellbeing
Quality Education
Gender Equality
Decent Work and Economic Growth
Innovation, Industry and Infrastructure
Reduced Inequalities
Sustainable Cities and Communities
Peace, Justice, and Strong Institutions
Other
SUSTAINABLE LAND USE
Sustainable Land Use solutions include innovative ways to …
Make agriculture climate-smart
Transform food systems
Nurture forests in integrated landscapes
SUSTAINABLE PRODUCTION SYSTEMS
Sustainable Production System solutions include innovative ways to …
Recast materials production
Reduce industry emissions
Reboot regional economies
SUSTAINABLE CITIES AND MOBILITY
Urban Transition solutions include developing innovative ways to …
Promote retrofit and decentralized energy
Create green, resilient cities
Accelerate clean urban mobility
Since 2019, Impact Hub Houston has hosted our region's Climathon — a global hackathon to develop scalable solutions for climate-related challenges. All Houstonians are invited to connect and collaborate around challenges pitched by experts from Houston's energy transition ecosystem, as well as the targets presented in the Mayor's Climate Action Plan.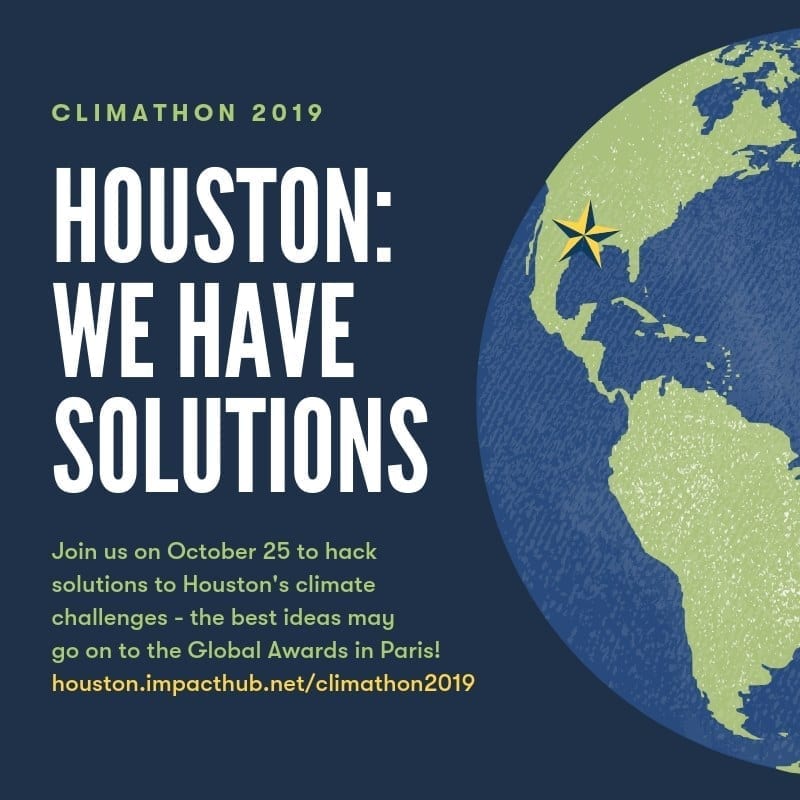 Highlights from Climathon 2019
To turn the tide on climate will require an unprecedented response at all levels of society, including courageous political leadership, transformative business vision, philanthropic audacity and wide-scale citizen engagement.
Chris Anderson, Head of TED
MANY THANKS TO OUR PARTNERS



Join us and be a part of one of the largest communities in the country leveraging technology for good. We welcome and appreciate whatever skills and insights you want to bring to the table — no prior tech education or experience necessary. Being the change starts with simply showing up with open minds and helping hands!