You're invited to a final work session to refine your solutions for Climathon 2020 before the submission deadline on DevPost!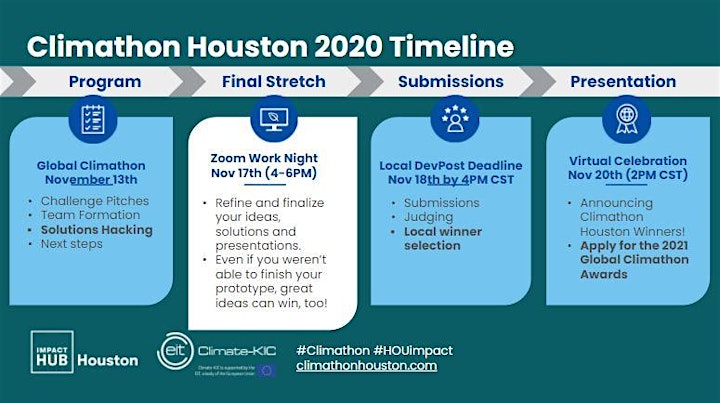 Over 100 participants have already registered to participate in Climathon Houston 2020! Maybe you already attended the info session or the kick-off event… or maybe you just found out about this opportunity!
Everyone is welcomed to continue working on your #ClimateAction solutions.
We're coordinating one more opportunity for you to work on your solutions before the Nov 18th submission deadline. Zoom Breakout Rooms will be set up for each team so you can collaborate one last time!
Featured Challenges
Transportation
This Challenge will be led by the team at EVolve Houston. EVolve Houston has set short- and long-term targets to increase the awareness, affordability, and availability of electrified transportation in the Greater Houston area. The Electric Vehicle Roadmap, developed in collaboration with over 40 stakeholders, sets forth the goal for 30% of new car sales to be EV by the year 2030.
Energy Transition
#1 – Make Houston the leader in carbon capture technology and energy innovation.
#2 – Restore, protect, and enhance Houston's natural ability to capture and store carbon.
Building Optimization
#1 – Reduce building energy use and maximize savings.
#2 – Expand investment in energy efficiency.
Materials Management
#1 – Reduce waste and transform the circular economy.
#2 – Optimize waste operations and create power from waste.
Realizing Houston's Climate Action Plan
On Earth Day this year, the City of Houston published its first Climate Action Plan. The plan is the culmination of thousands of volunteer time from industry professionals, policy stakeholders, and community advocates. Together the working groups have laid out a concise plan to address the climate challenges that Houston faces along with maintaining a leadership role in the energy transition.
This year's Climathon will look to realize some of the goals of the plan through design sprints led by local subject matter experts in the areas of Transportation, Energy Innovation, Building Optimization, and Materials Management.
Join us in addressing these issues with real-world solutions to these pressing problems we face together!
If you're ready to submit your idea or prototype, please do so on DevPost: https://climathon2020.devpost.com/
Thank you to our sponsors: