Savoure ton été en travaillant hors de chez toi, tu pourras participer à des activités, des événement et réseauter en tout simplicité !
Profite de 2 semaines de découverte chez Impact Hub Lausanne !
Afin de célébrer l'emménagement dans nos nouveaux locaux à Beaulieu, le premier espace d'innovation dédié à l'économie circulaire et à l'inclusion en Suisse, nous t'offrons la possibilité de vivre l'expérience Impact Hub Lausanne pendant 2 semaines de découverte.
Qui sommes nous ?
Impact Hub est une communauté d'entrepreneurs et de startups qui aspire à construire un monde meilleur grâce à l'innovation et la collaboration. Nous proposons un espace inspirant, riche en événements et nous apportons du soutien à notre communauté porteuse de projets via nos programmes 🚀✨
Avec 6 Impact Hubs en Suisse et plus de 150 Hubs à travers le monde, nous sommes un réseau international.
Grâce au Pass-Découverte, nous t'offrons la possibilité de :
Profiter de nos nouveaux espaces de travail à Beaulieu
Participer à des événements et activités intéressantes et inspirantes
Renforcer ton réseau grâce à nos membres et participer aux sessions de networking qui sont régulièrement proposées
En apprendre plus sur Impact Hub, sa mission et ses valeurs.
Profiter du soleil sur la terrasse entre deux meetings – ça n'a pas de prix ! 🌴🌞
Comment peux-tu profiter du Pass ?
C'est très simple, tu choisis l'une des dates proposées et nous te recevrons dans nos locaux pour t'accueillir, te faire visiter l'espace et discuter autour d'un café avec les autres membres du groupe qui vont commencer avec toi. Tu recevras ainsi toutes les infos utiles afin d'apprécier pleinement tes 2 semaines de découverte chez nous.
P.S.: On te conseille vivement de prévoir ton lundi matin de libre 🙂
Nous n'attendons plus que toi ! À très vite !
La team Impact Hub Lausanne
Le Pass-Découverte est unique, nominatif et non transférable.
Chaque ticket a une validité de 2 semaines à partir de la date de commencement écrite sur ce dernier. La durée ne peut pas être mise en pause ou fractionnée dans le temps.
La personne doit se présenter à la séance d'information le premier jour de son Pass-Découverte auquel il.elle s'est inscrit.e pour que celui-ci soit valide.
Les Pass-Découverte sont accessibles dès le mois de juin 2022 jusqu'à fin août 2022.
Le Pass-Découverte ne comprend pas les avantages d'un abonnement, ce qui signifie l'exclusion de rabais sur la location des salles de réunion ou le libre accès aux autres Impact Hub en Suisse ou à l'étranger.
Aucune obligation de souscription à Impact Hub Lausanne après l'essai de 2 semaines.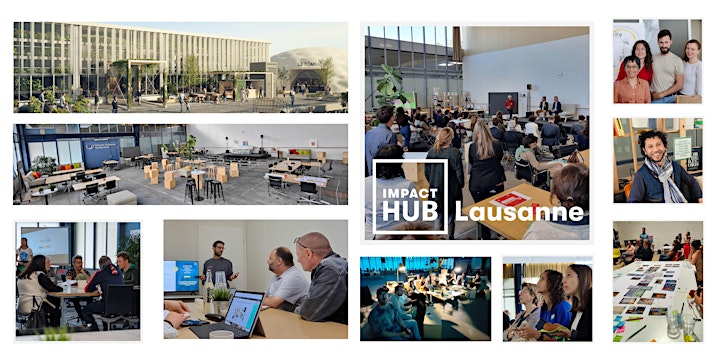 –––
ENG
Enjoy your summer working away from home, participating in activities, events and networking with ease!
Enjoy 2 weeks of discovery at Impact Hub Lausanne!
To celebrate the move to our new premises in Beaulieu, the first innovation space dedicated to the circular economy and inclusion in Switzerland, we are offering you the opportunity to discover the Impact Hub Lausanne experience during 2 weeks.
Who are we?
Impact Hub is a community of entrepreneurs and startups that aspires to build a better world through innovation and collaboration. We offer an inspiring, eventful space and provide support to our project-driven community via our programmes 🚀✨
With 6 Impact Hubs in Switzerland and over 150 Hubs worldwide, we are an international network.
Thanks to the Discovery Pass, we offer you the opportunity to:
Take advantage of our new workspaces in Beaulieu
Participate in interesting and inspiring events and activities
Enrich your network and build new connections with our members, by participating in regular networking sessions
Learn more about Impact Hub, its mission and values.
Enjoy the sun on our terrace between your meetings – priceless, isn't it?! 🌴🌞
How can you benefit from the Pass?
It's very simple, you choose one of the proposed dates and we will receive you in Beaulieu to welcome you, show you around the space and chat over a coffee with the other members of the group that will start with you. You will receive all the information you need to fully enjoy your 2 weeks of discovery with us.
P.S.: We strongly advise you to be available on your 1st Monday morning 🙂
We are just waiting for you! See you soon!
The Impact Hub Lausanne team
––
The Discovery Pass is unique, nominative and non-transferable.
Each ticket is valid for 2 weeks from the start date written on it. The duration cannot be paused or split over time.
The person must attend the information session on the first day of the Discovery Pass for it to be valid.
The Discovery Passes are available from June 2022 until the end of August 2022.
The Discovery Pass does not include the advantages of a subscription, meaning it excludes the discount on the rental of meeting rooms or free access to other Impact Hubs in Switzerland or abroad.
No obligation to subscribe to an Impact Hub Lausanne membership after the 2-week trial.